Scott Ace-Navigator is Scott's Workplace Incident Recorder and Management System.
Focused on improving workplace safety, eliminating reporting lag, and reducing Worker's Compensation costs, ACE-Navigator empowers supervisors, forepersons, superintendents, managers and other workplace leaders to record any and all incidents directly at point-of-occurrence, incepting the reporting process immediately, collecting all salient data, forwarding it to an advanced management system, and generating notifications which are sent to key stakeholders.
When recording a workplace incident in Ace-Navigator the reporter has access to many functions including:
Employee, location and equipment selection
Injury definition (if applicable)
Electronically-signed waiver and attestation forms
Clinic or hospital selection
Reporter, employee and witness statements in audio, picture or text format
And much more!
Incident Recorder operates on a Smartphone or tablet, and does not require a permanent Internet connection. It is designed for simplicity and ease-of-use, with prompts and obvious user choices designed to provide clarity and promote accuracy.
Once an incident has been recorded it is available for further processing in the online Incident Manager where authorized users can:
Review critical information
Generate required forms
Plan tracking and return-to-work events
Communicate information electronically with third-party administrators, carriers, healthcare and legal providers or directly to us at Scott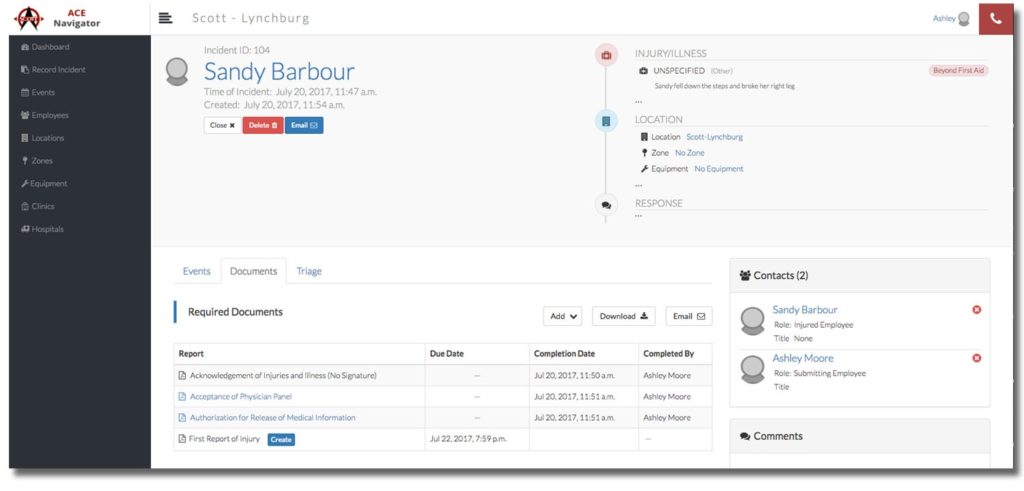 When workplace injuries occur, the pace and completeness of the documentation process dictates the cost of the incident as well as the speed of the employee's recovery and return to work.
Ace-Navigator reduces paperwork, improves accuracy and strengthens communications between all stakeholders involved in promoting workplace safety and incident triage and management.
Contact Us To Get Started With Ace-Navigator